In an effort to provide expanded functionality for customers, Revel has released a new Sync application for the QuickBooks Desktop integration. In this article, we will outline the various functions of the new Sync app. The Sync app is required for all clients who are integrating their QuickBooks Desktop file with Revel's dashboard.  This Article will go through each of the different functions of the Sync app.  Please note: The Sync application is specifically for integration with QuickBooks Desktop for Windows. QuickBooks Desktop for Mac is currently not supported through this application. 
This is the 'QBPOS Sync by Revel' app. You will notice a series of icons in the top right.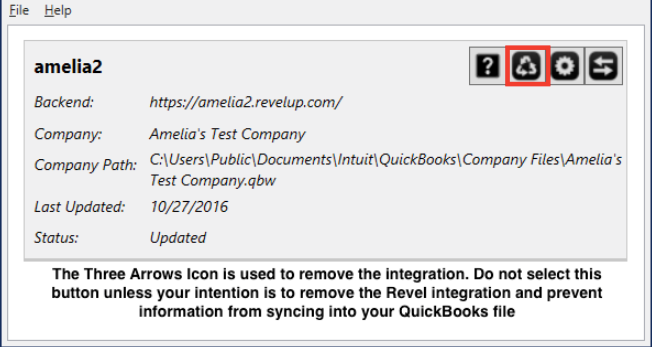 When pushing Historical data, it is recommended that the data is pushed in small increments first. Once the data push has been verified as correct, larger increments can be used. 
By choosing to push historical data into your QuickBooks file, there may be a need to edit existing data. A disclaimer will appear noting this fact, and require confirmation before allowing data to be pushed. 
This is the window which opens upon selection of the Settings Icon. These settings control what is pushed into the QuickBooks file and how it is pushed. Please note: If the top Sales toggle is not set to 'Yes', no information will push into the QuickBooks file. 
Sync Type denotes the way Revel creates invoices in QuickBooks
| | |
| --- | --- |
| Summary | 1 Invoice per day, listing sales as Taxable and Non-taxable sales.  |
| Summary by Class  | 1 Invoice  per day listing sales by Revel classes.  |
| Summary by Product  | 1 Invoice per day, listing sales by each product sold in Revel.  |
'Do you Want Sales Data into QuickBooks?'
- If this is not selected as "Yes", nothing will push into Quickbooks. For the other modules to operate correctly, Sales needs to be selected. 
'Do you want Payment Reconciliation?'
- If you are an Intuit Payments user, Intuit offers payment reconciliation in conjunction with Revel. This setting allows all payments pushed into Quickbooks to auto-reconcile Revel created transactions against deposit batches in the bank feed. 
Payment Reconciliation ON 

1 Credit Payment for each transaction in Revel - Each payment will have a transaction ID attached to aid in the Reconciliation. 

1 Cash Payment - This will be the sum of all Cash transactions for 1 date 

Payment Reconciliation OFF 

1 Summary Credit Payment for each credit type type. (AMEX,VI,MC,DI)

1 Summary Cash Payment 
'Do you want your Inventory and Purchase Order data in QuickBooks?'
Inventory Toggle ON 

1 Journal Entry for each Inventory action (Damage, Used, Transferred in/out) This is to track Cost of Goods Sold numbers. 

1 Bill created in QuickBooks for each Purchase order Finalized with an invoice number in Revel. 

Any Inventory received manually (Not using a Purchase Order) will create a bill in QBPOS Vendor.

Inventory Toggle OFF 
When Performing Inventory Actions in Revel, there will be no mirroring QuickBooks transaction 
'Do you want your Payout/Pay in data in QuickBooks?'
| | |
| --- | --- |
| Payout Toggle ON | Revel creates Payout and Pay in transaction to account for money taken from the drawer during business hours. These are at the business owners discretion,  |
| Payout Toggle OFF  | When Performing Payouts and Payins with Revel, no information regarding the payout and pay in will be pushed to Quickbooks.  |
'Do You want your Payroll data in QuickBooks?'
To set up Payroll with QuickBooks and Revel, the business must first have a valid Intuit payroll subscription. 
| | |
| --- | --- |
| Payroll Toggle ON | Revel will create new Employee records in Quickbooks or match existing records and pass time worked into each Employee record in QuickBooks. This is dictated by employees Clock in and Clock out on the Revel iPad.  |
| Payroll Toggle OFF  | No employees are created, Payroll information will pass to QuickBooks  |
When Turning on Payroll, the integration will require that you designate which payroll items in Quickbooks file connect with these 4 pay rates.  For setup information, check here. 
| | |
| --- | --- |
| Accounts  | By Selecting this menu, you are given access to the Mapping of your Quickbooks integration. Within this Tab you will be able to choose where you would like transactions to land within Quickbooks  |
| Common | By Selecting this menu, you are allowed to change the naming conventions under which Revel pays into Quickbooks. (ex. POS Default Customer, POS Default Vendor) |
| Payment Methods  | By selecting this menu, you are allowed to change the naming conventions of the payment methods Revel sends to Quickbooks (ex. Cash, Amex, Visa, etc)  |
| Sales Summary  | By selecting this menu, you are allowed to change the naming conventions for the transactions themselves. (POS Taxable Sales, POS Non-Taxable Sales)  |
In Next Sync...
| | |
| --- | --- |
| Sync all Products | If this box is checked while Summary Product integration is enabled,  Revel will create in Quickbooks any Product records which are missing during the next nightly sync.  |
| Sync all Product Classes  | If this box is checked while using Product or Product Class summary integration is enabled, Revel will create in Quickbooks any Classes that are missing during the next nightly sync.  |
| Sync all Vendors  | If this box is checked, Revel will recreate or remap any vendors which are in Revel and not in Quickbooks. This will occur during the next nightly sync.  |
| Sync all Employees  | If this box is checked, Revel will create any missing employee records which cannot be found in Quickbooks. This will happen during overnight sync  |
| | |
| --- | --- |
| Restore Deleted Items | Select this button if you have deleted items in QuickBooks. This will recreate any items which Revel needs in QuickBooks. Any items which were deleted will be recreated in the QuickBooks file using this function.  |